Protein is one of the best vital building blocks of the body. It helps with muscle growth, tissue repair, and cell reproduction. But not all vegetarians get enough protein in their diet. Learn more about protein-rich foods for vegetarians, including protein-packed grains, nuts, beans and legumes.
A healthy vegetarian diet can provide the body with all the essential nutrients it needs to grow, develop, and function. However, it's not always easy to find delicious and filling plant-based protein sources. Read on to find out the best vegetarian protein-rich foods that will keep you feeling strong and satisfied! Start with these protein-rich food options.
Cheese: Cheese has the same protein levels by weight as meat and fish, and eggs are considered ideal protein foods due to their ideal amino acid balance. Whether we include dairy and / or eggs in our diets, plant foods provide an important part of our protein intake.
Tofu: Tofu is made from soybean curds and just 100 g of tofu contains 8 g of protein. It is indeed gluten-free and short in calories. It is an imperative source of protein, specifically for vegans. Tofu can enhance energy, help sustain a healthy weight, and lower the risk of conditions such as diabetes, obesity, and heart disease.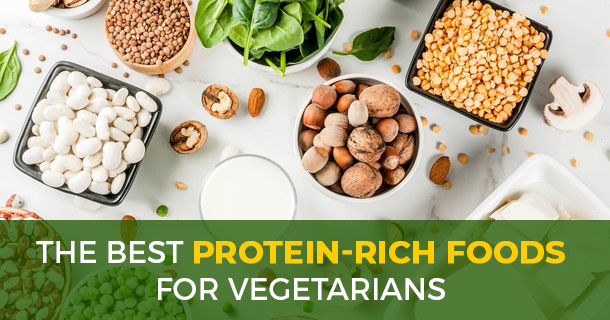 Quinoa: Quinoa, which is technically a seed, also contains a powerful protein; a quarter cup (raw) contains up to 8 g of protein. It takes just 20 minutes to cook and is a great addition to vegetable burgers, salads, pilaf, casseroles and more. Quinoa has higher protein content than most other grains, contains a healthy dose of heart-healthy unsaturated fats, and is an excellent source of fiber, which is a nutrient that can help you feel full and healthy.
Nuts: Nuts like almonds and cashews are excellent sources of protein and are always on the protein food list. Cashews, almonds, pistachios, and peanuts are higher in protein than other nuts like hazelnuts, so buy a mixed bag, sprinkle it with masala and a little salt, and enjoy over a cup of tea. Take a handful as a snack, or garnish your morning oats with a tablespoon of nut butter to add saturated fat and protein. Nuts and seeds are again very handy and can be used with meals or as a snack to deliver adequate protein and energy throughout the day.
Nuts, seeds, and their oils are good sources of protein and healthy monounsaturated fats. They work well for burritos, salad dressings, soups and chili peppers, or just as a side dish. Try cooking dry pinto beans instead of canned beans for additional health benefits. Some of the types of lentils that you should consume every day are green lentils, chickpeas, moon valleys, and beans.
Beans alone contain 17 grams of protein per cup of protein, but they also contain potassium and complex carbohydrates and 50% of the daily value. Try this nutrient-rich porridge in casseroles, soups, pilaf, filling, or alone. However, it can be a lot to eat in one go, and a simple handful of mixed nuts each day can give you the protein your body needs. If you're looking for heart-healthy snacks and protein-rich vegetarian foods, be sure to include nuts in your daily diet. Aside from protein, there are other nutrients that you should definitely consume on a meat-free diet.
Can You Eat Too Much Protein on a Vegetarian Diet?
While protein should get a large proportion of your diet, don't overdo it. There is some evidence that eating too much protein can be unhealthy for you, but this usually applies to diets high in animal protein, such as dairy products and red or processed meats. Constipation, diarrhea and kidney damage were found to be the most common diseases associated with high protein intake. Meat is a protein-rich food; If you no longer eat it, it is important to increase your intake of high-protein plant foods, dairy products, or eggs to ensure a healthy and balanced diet.
Foods such as chia seeds and Greek yogurt can help you lose weight and provide you with the protein you need. Some plant foods, such as quinoa and soybeans, are comprehensive proteins, which means they comprise of all nine essential amino acids needed by an individual. As a vegetarian, it is important to include all these amino acids in your diet for optimal nutrition.
The key to getting the exact amount of protein and all the amino acids you want is to mix different grains with diverse vegetables and legumes or tofu with broccoli. Although steak will get you there quickly, vegetarian meals usually rely on a combination of different protein sources to provide enough protein. This includes animal products such as eggs and dairy products, as well as various plant-based protein sources such as lentils, beans, whole grains, tofu, nuts and seeds. Protein-rich vegetarian foods include beans, tofu, lentils, milk, yogurt, cheese, nuts, seeds, butter, peas, whole grains, peanut eggs, and white mushrooms.
Vegetables and grains also contain small amounts of protein. Low-fat cheese, eggs,
Milk, and yogurt are good sources of animal protein. Unlike vegan sources of protein, vegetarian sources of protein can include dairy and eggs. With 6 grams of protein per serving, eggs are ideal food for both vegetarians and omnivores who want to be costume ready all year round.
Many of these plant-based protein sources are high in fiber and low in saturated fat, so they can help you stay full and keep your heart healthy. Plant foods such as peas, nuts and beans are very rich in protein and can contend with fish and meat. If you are a vegetarian or vegan, or just want to eat less meat and more plants, these vegetarian protein sources can more easily replenish protein reserves. Although many vegetarians use protein powder as a source of nutrition, we have compiled a protein-rich food list for vegetarians to help them meet their daily meat needs.
They can also reduce hunger as they are solid foods, unlike soy milk, which in turn helps reduce food intake. When consumed, these foods aren't enough to meet your daily protein needs, but certain plant-based snacks can increase your protein intake, especially when combined with other protein-rich foods. Leafy greens such as bok choy and spinach are low in calories but high in protein. Quinoa, soybean, and amaranth seed products are some exceptions to whole vegetable protein.
It was once thought that vegetarians and vegans need to combine plant-based foods with every meal to ensure they are consuming complete proteins (like baked beans on toast).
A vegetarian lifestyle can look intimidating at first, but it's simpler than you think! Eating a variety of amino acid sources throughout the day should provide you with a complete protein intake. In general, vegetarian diets may meet or exceed their protein requirements if energy intake (calories) is adequate, but some vegan diets may be low in protein.