A vaccine to prevent the 2019 coronavirus disease (COVID-19) may be the greatest expectation for ending the epidemic. In this article, we will compare Covaxin and Covishield to find out which one is the best. We will start by looking at efficacy side effects and relevant information about each drug. Then we will move on to a detailed comparison of Covaxin and Covishield. All the research and study will definitely help you decide which vaccine is suitable for you.
As far as we know, vaccines have proven to be effective against existing options, especially in preventing serious illness, hospitalization and death. Because the vaccine causes a widespread immune response, the vaccine is likely to remain effective against the variant, which means that changes or mutations in the virus are unlikely to make the vaccine completely ineffective.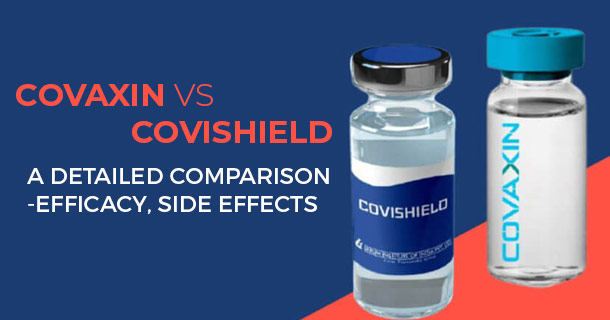 Covaxin has been developed by Hyderabad-based Bharat Biotech International Ltd in association with the Indian Council of Medical Research (ICMR) and the National Institute of Virology (NIV). Covishield has been developed by the Oxford-AstraZeneca and is being manufactured by the Serum Institute of India (SII).
Although we do not have specific information on the effectiveness of vaccines for people undergoing cancer treatment, vaccines may not be as effective for people with weakened immune systems as they are for people with healthy immune systems. The main problem with vaccination is not whether it is safe for cancer patients, but how effective it is, especially for people with weakened immune systems.
Recent studies by the European Medical Administration (EMA) have shown that AstraZeneca vaccines may have "abnormal" blood clots (thrombosis) and abnormally low platelet counts (thrombocytopenia), which are "very rare" in AstraZeneca vaccines side effects.
Although studies have shown that the Covishield vaccine is safe to use and has rare side effects, there are still some important side effects, such as pain at the injection site, redness, mild to high fever, lethargy, and lethargy. The arm is stiff and the body aches.
Further research has shown that the dose of Covaxin may be a bit dangerous for people who may have a fever during vaccination, are taking blood thinning drugs, have immune dysfunction, or have bleeding problems.
This is still being studied, and the possible long-term effects of the vaccine are also being studied. Most likely, the vaccine will also be effective against new strains. Covishield is effective against the British strain and has been tested against the Brazilian strain.
The Covishield vaccine is nearly 90% effective according to global reports, and the Covaxin vaccine is 81% effective according to a preliminary Phase III study. Effectiveness of Covishield According to a Phase 3 study conducted in December 2020, the vaccine was 70.4% effective.
In India, its trial was carried out by the Serum Institute of India (SII), which also produces the Covishield vaccine for a mass vaccination campaign. India has approved two vaccines – Covishield and Covaxin – for emergency use to combat the country's Covid-19 pandemic. To date, more than 100 million doses of two approved vaccines have been administered in India: Covishield and Covaxin.
The interval between the first and second doses of Covishield is 12-16 weeks and can be given to individuals over 18 years of age. The efficacy range after full vaccination is 78% to 100%. The interval between the first and second doses of Covaxin is 4 -6 weeks and the effective rate of Covaxin after the second dose is 78-93%, while the effective rate of Covishield after the second dose is 70-95%.
Despite the fact that Covaxin is still in the final stages of clinical trials, and the effectiveness rates for this Covid-19 vaccine have not been published, the effectiveness of Covishield has been set at over 70%. Covishield's Phase III peer-reviewed studies show it is up to 90% effective. The results also showed that the vaccine was only 62% effective when participants were given two full doses, but that its effectiveness rose to 90% when they were given half the dose and then the full dose.
As a rough comparison, recent data from the Scottish Department of Public Health show that at least two weeks after the second vaccination, the Pfizer-BioNTech vaccine has an effective rate of 79% against the Delta variant, while the Oxford-AstraZeneca has an effective rate of 60%. However, different test methods do not allow direct comparison of the relative efficacy of different vaccines.
Covaxin also completed Phase 3 studies and proved that the vaccine's efficacy against asymptomatic COVID-19, symptomatic COVID-19, and severely symptomatic COVID-19 were 63.6%, 77.8%, and 93.4%, respectively. Studies have shown that the effectiveness of covaxin against severe COVID-19 disease is 93.4%, and the overall effectiveness of the vaccine against symptomatic infections is 77.8%, which was confirmed by PCR testing.
Both vaccines include two doses. The Indian COVID-19 vaccine from Covaxin has shown preliminary overall clinical efficacy of 78% and 100% efficacy against "severe COVID-19 disease" in Phase 3 studies. The Serum Institute (SII), an Indian vaccine manufacturer, says Covishield is "highly effective." and is confirmed by data from phase III trials from Brazil and the UK. Clinical trials are a three-step process to determine if a vaccine produces good immune responses and if it causes unacceptable side effects. Currently, the result of the first phase clearly shows that both vaccines vaccinated in India are safe and effective.
The COVID-19 vaccination drive is going full-fledged in India, and more than 100 million people have been vaccinated with two accepted COVID vaccines, which means that all vaccines currently available have been proven effective in reducing the risk of contracting COVID-19 and reducing the risk of serious illness If you are infected.
Vaccines do not provide full protection (100%), so breakthrough infections will occur in which people become infected with the virus despite being fully vaccinated. As a result, you could become infected with the virus that causes COVID-19 immediately before or after vaccination. If you have been exposed to COVID-19 and develop symptoms more than three days after vaccination, or symptoms persist for more than two days, self-isolate and get tested. Before getting vaccinated, talk to your doctor about any serious allergies or other health conditions you may have.