Joint inflammation is termed as Arthritis in the Greek language. Inflammation may affect any one joint or multiple joints of the body. Depending on the causative factor it is classified as two –Osteo arthritis and Rheumatic Arthritis. Though both affect the joint structure the former is caused by the wear and tear damage due to ageing while the later one is the reaction of autoimmunity.
What is Auto immunity?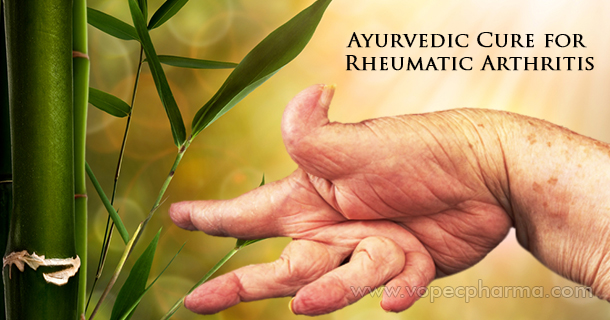 Our immune system hangs on the white blood cells which produce antibodies to battle against the foreign material. In case of autoimmunity, white blood cells mistakenly identify our normal body cells as foreign substance and start producing autoantibodies which leads to inflammatory reactions such as pain, swelling, redness, fever or heat and loss of movement.
Symptoms of Rheumatoid arthritis
Swelling and redness over the affected joint
Painful joints warm to touch
Dull pain which decreases on movement
Feeling fatigue during afternoons
Small and large joints on both sides of the body are affected such as both hands, both legs.
Ayurvedic concept on Rheumatoid Arthritis
Ayurveda strongly believes that production of Ama is a causative factor of Ama vata which is characterized by Angamardha (body pain), aruchi (loss of taste), trsna (thirst),alasya (fatigue),Jvara (fever), apaka (indigestion), shunatha ( inflammation, redness, pain and swelling over the joints).
Ama-what is it and how it is being produced?
Ama is the undigested material which is similar to the endotoxins causing auto immunity. If a person eats food when he feels no hunger or when the food quantity exceeds to his digestive capacity, when the food is incompatible to his body or when he does exercise immediately after taking heavy food (Ayurveda suggests people to take some rest after every meal for the digestion of ingested food) digestive fire become diminished which in turn transforms the food into undigested material (Ama). With the help of Vata it gets mixed with the blood and enters into the joints and creates the symptoms of Amavata (Rheumatoid arthtritis)
How it is treatable with Ayurveda?
Ayurveda suggests abstinence from the causative factor as a chief remedy for all diseases including autoimmune disease like rheumatoid arthritis. That means anything that makes your digestion weak is to be avoided primarily. Ama pachana (digesting the undigested material) with the help of digestive herbs such as Ginger, garlic, caraway seeds, ajwain seeds etc and Ama nirharana – removal of undigested material (endotoxins) from the body which can be facilitated by anti-inflammatory, rejuvenative and mild laxative herbs such as Thriphala are indicated to cleanse out the endotoxins from the body and to provide strength and regain the joint activity without pain. Treating the body with these herbal formulations provides complete rejuvenation and modulates impaired immunity.
New age scientific researches support the anti-rheumatic effects of ancient Ayurvedic herbs like Guggulu, Shallaki, Thriphala, Ajamoda and Ashwagandha are due to their anti-inflammatory, analgesic, rejuvenative and immune-modulating activities.